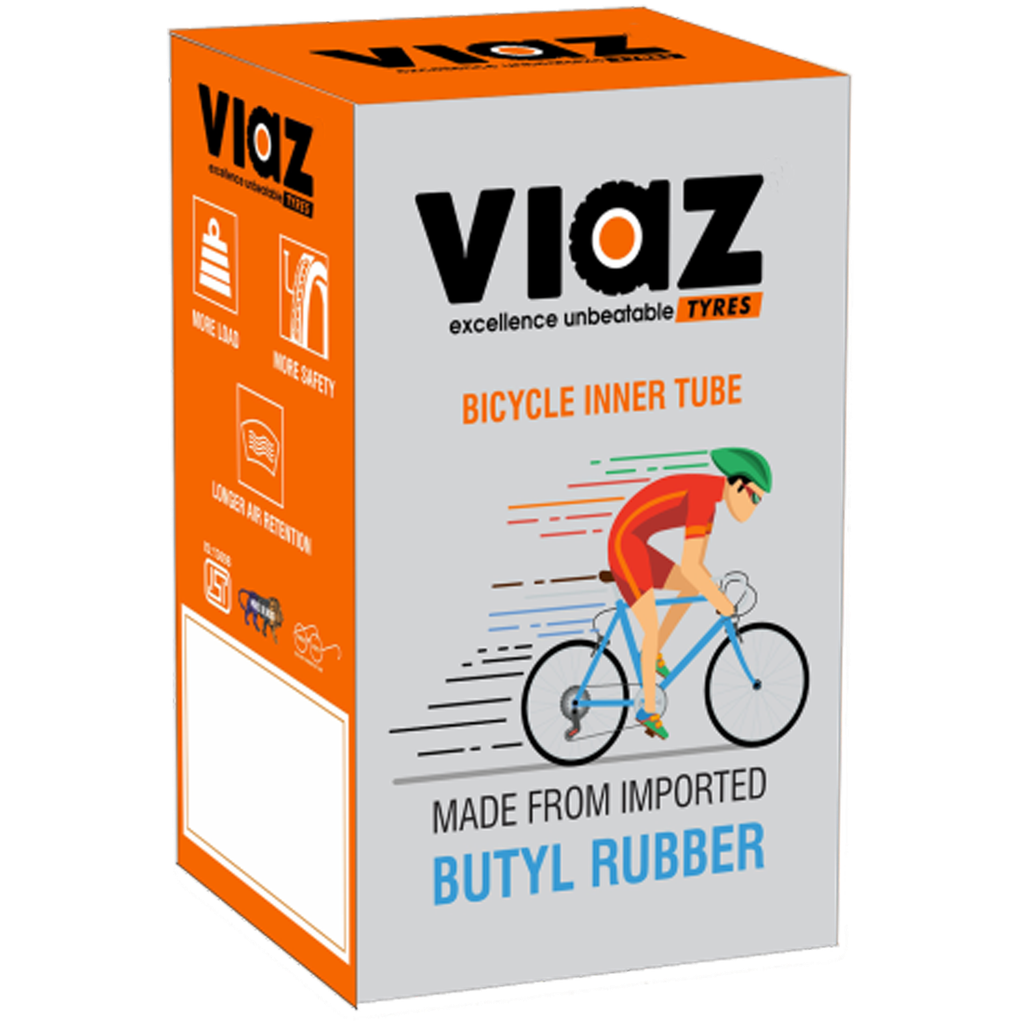 BICYCLE BUTYL MOULDED TUBE
---
Introducing Viaz Tyre's

Bicycle Butyl Molded Tube

– your ideal choice for a reliable and long-lasting cycling experience. Crafted with precision, our butyl molded tube offers

superior durability

and

puncture resistance

, ensuring a smooth and safe ride for every cyclist. Made using high-quality butyl rubber, it guarantees optimum performance in various terrains.
Viaz Tyre's Bicycle Butyl Molded Tube is your
go-to solution
for enhancing your cycling adventures. Explore this
top-tier product
today and elevate your cycling experience to new heights.
| Tube Size | Vehicle Application | Valve Size | Air Pre (Front) | Air Pre (Rear) |
| --- | --- | --- | --- | --- |
| 28 X 1.1/2 | - | AV-36mm | 25 | 25 |
| 26 X 1.1/2 | - | AV-36mm | 25 | 25 |
| 26 X 1.75/1.95/2.125 SV | - | AV-36mm | 25 | 25 |
| 26 X 1.75/1.95/2.125 LV | - | AV-48mm | 25 | 25 |
| 26 X 2.35/2.40 LV | - | AV-48mm | 25 | 25 |
| 24 X 1.75/2.125 SV | - | AV-36mm | 25 | 25 |
| 24 X 1.75/2.125 LV | - | AV-48mm | 25 | 25 |
| 24 X 2.35/2.40 LV | - | AV-48mm | 25 | 25 |
| 20 X 2.35/2.40 SV | - | AV-36mm | 25 | 25 |
| 20 X 2.35/2.40 LV | - | AV-48mm | 25 | 25 |
| 27 X 1.1/4 LV | - | AV-48mm | 25 | 25 |
| 700 X 35C LV | - | AV-48mm | 25 | 25 |